On the 1st of September we flew to Blois (FR) to attend the Blois Microlight festival at the Blois-Le Breuil (LFOQ) aerodrome. The was the first visit for me but also the first time I flew outside Belgium.
Saturday
We left Wevelgem (EBKT) with the Mission M106 on Saturday morning in excellent flying conditions, first stop Amiens-Glisy (LFAY). Although a quite big aerodrome with two parallel runways (paved and grass) and a tower, there was very little activity, too early?
Prior permission from local authorities is required to land at Amiens. Our "support" crew was already waiting, we decided to fly one plane and take one car. This way we could share the costs, and we were able to load the camping gear for four people and extra fuel into the car.
We switched pilots and our next stop was Dreux (LFON). Most small aerodromes in France don't seem to have a signal square, and there was almost no wind, so the windsock didn't give us much clues about which runway to use and the radio remained silent. But we spotted a plane that was about to take off, so we took the same runway.
Fuel was not available, but we re-fuelled with the jerry cans we filled earlier at a gas station. This was not necessary to reach our destination, but we wanted to avoid loosing time at Blois. Which later proofed no issue as there were no long queues at Blois.
At Blois landings are restricted to a number of slots and my timing proofed to be too optimistic, so we requested a later slot. We switched pilot again and off we went to our final stop for the day.
First impression, the terrain is big! Parking for cars and planes, vendors exhibition, para-motor area, second hand market. The organization claims more then 800 planes.
Some of the highlights the beautiful and fast Shark, the syncro flights and way to many planes for the short time we had.
Belgium was well presented with JMB Aviation from Amougies, with probably the biggest stand and UL Power aero engines.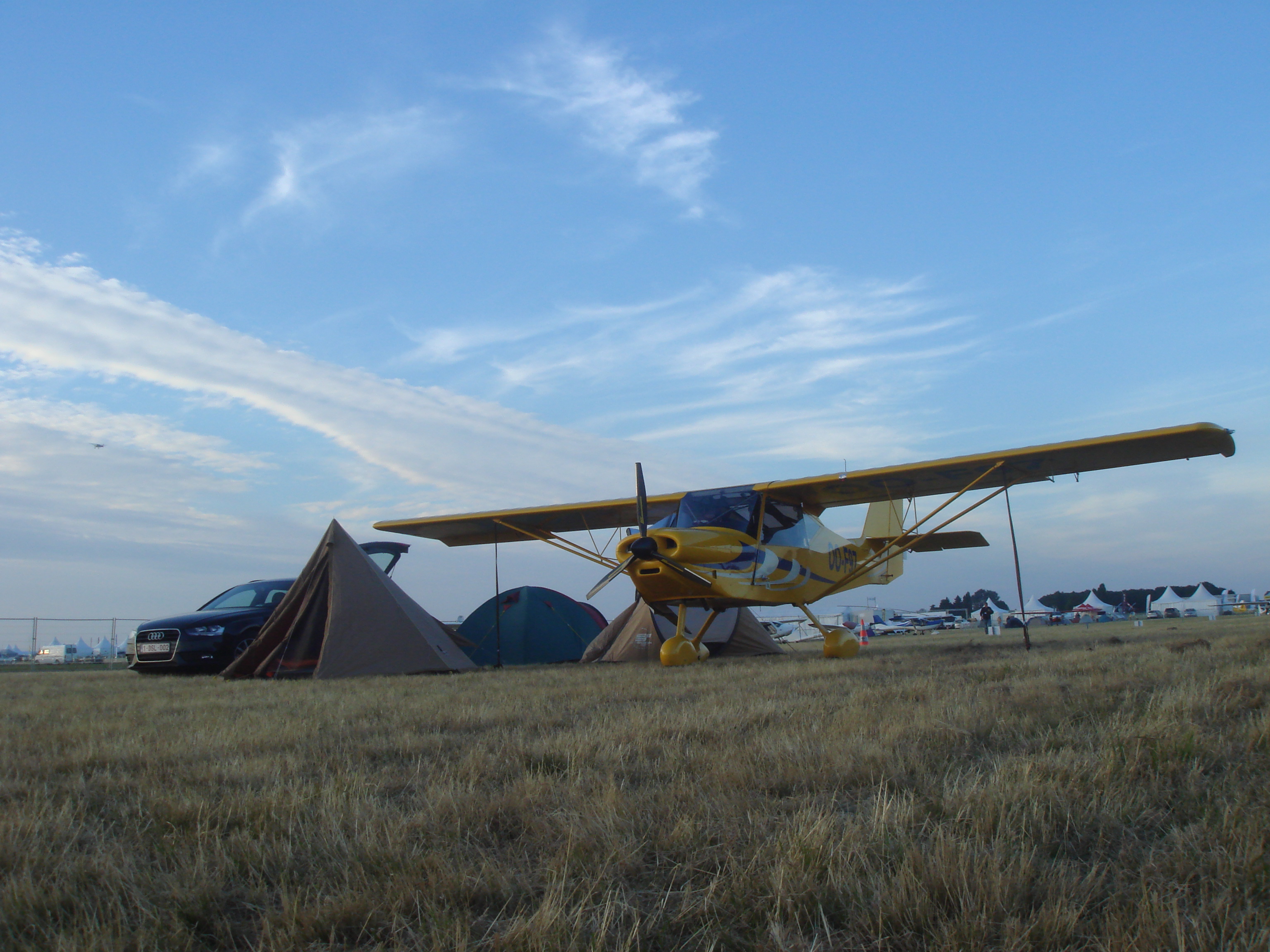 Sunday
In the morning we continued with the vendor exhibition. We Left Blois on Sunday afternoon, taking a different route, first stop Pont Sur Yonne (LFGO). Where we received a warm welcome and where we met other pilots returning from Blois.
We quickly left by car, while the Mission was refuelling to reach our next stop,  Laon (LFAF). An aerodrome outside the centre of Laon, but the circuit offering a close view of the cathedral of Laon.
After filing the flight-plan it was off  to the Mission's home-base, the international airport of Kortrijk-Wevelgem (EBKT).
Organization
Blois is a must see, lots of planes at display, very well organized, from catering to arrivals and departures, this is an experienced crew, so definitely worth a visit.
For taxiing to the runway you just had to follow the marshals with white flags and wait until given the green flag for take off, simple and effective.
Flight preparation
For flight preparation we used Jeppesen air-charts but we also used the Skydemon software.  Which is a great tool, runs on IPad, Windows and Mac for 75€/year, you can try it out for free during 30 days. For the latest NOTAMs and weather forecast we got some help from Olivia
Big thanks to fellow pilots Henk, Johan and Geert
Steven